My Tips:
If you are planning to buy a new cpu for long terms (3-5 years), go for high performance, power-optimized Intel 32nm Core microarchitecture 2nd Generation Core i3-2000-series, Core i5-2000-series & Core i7-2000-series processors lineup.
All these processors work best & support new operating system - Microsoft Windows 7/8, Apple Mac OSX 10.7 Lion & Open Source Linux new kernel 3.2, all added advantage for both 32 & 64-bit platform and virtualization technology.

---
Multi-Processes in Browsers: Chrome, Internet Explorer, Firefox and WebKit
With the web becoming such a big part of everyone's life, the web browser is probably the most important piece of software in any computer or device. But, with great power comes great responsibility, browsers are constantly a target for nefarious individuals up to no good. Add to this the 'unpredictability' of web coding and buggy plugins and you have a recipe for disaster. With so many potential points of failure, it's up to the browser makers to ensure that everything runs smoothly and securely. One way of doing this is by splitting the browser process into several components and isolating them from each other. This ensures that if one of them fails, it doesn't bring down the entire browser. For example, if a site has buggy or malicious code, it may crash a tab, but it won't affect the others or the browser as a whole. The idea of multi-process tabs has been adopted by most browser makers and it's starting to become the norm. Spearheaded by Google Chrome and Microsoft's Internet Explorer 8, the concept has made its way into Mozilla Firefox and may soon be implemented in many of the WebKit-based web browsers, like Apple Safari. But, while the idea and the concept may be similar, the implementations differ from browser to browser.
Google Chrome/Chromium's Multi-process Architecture
Google Chrome was one of the first browsers to have
multiple processes
. It also has one of the most complex systems isolating many of the components from each other. There are four main process types in Google Chrome and Chromium:
- browser process - handles the user interface and manages all the other processes, which run 'on top of it;'
- render processes - these handle the rendering in the individual browser tabs; it must be noted that one render process can handle more than one tab;
- plugin processes - each browser plugin, stuff like Adobe Flash or Java, is run in its own separate process; these processes communicate with the render process they are spawned from;
- extension processes - extensions also get their individual processes to keep them from interfering with the browser or with each other.
Microsoft Internet Explorer 8 Loosely-Coupled IE (LCIE)
Microsoft took a surprisingly similar approach with Internet Explorer 8. With the so-called Loosely-Coupled IE (LCIE) architecture, IE 8 also splits the main browsing process from the rendering processes. The main process handles the browser, the UI and the frames (windows), which house the tabs. Several tabs are then run inside the same process, but tabs with different security levels are separated. ActiveX controls are handled by the tab processes.
Mozilla Electrolysis and Out-of-process Plugins
Mozilla has come late to the game, but Firefox has very recently gotten some multi-process capabilities. They are nowhere near as complex as Chrome or IE's and, for now, aim just to separate the browser plugins from the main process. The project, codenamed Electrolysis, is in the early stages, but the first benefits are starting to be seen. The capability is now available in the latest Firefox 3.6.4 beta builds. There is some intention to extend the multi-process functionality to the tabs, but there are few clear plans for now.
Multi-process in WebKit 2
Things are about to become even more interesting as the team behind WebKit, the web rendering engine powering a big number of browsers, has announced that it is building multi-process capabilities right into the renderer in the upcoming WebKit 2. Even though WebKit is used on Google Chrome/Chromium, the approaches are different. Where Chrome runs a WebKit instance for each of the render processes, in WebKit2, the rendering engine itself is split into multiple processes.
There will be a base WebKit UI process to house the application logic and a second process, dubbed the Web Process, will handle the actual rendering. The multi-process features will be independent of the application, which incorporates WebKit, the major difference from the Chrome model. This will enable developers to quickly and easily build multi-process features into their apps without modifying or adding too much code to them.
My Tips:
All the new browser: Opera 12, Google Chrome 15, Internet Explorer 9, Safari 5 and Firefox 8 will take advantage of the power of the GPU (hardware acceleration through Direct2D and DirectWrite) for all page rendering and expanded support for CSS3, SVG, and HTML5.
Browser Benchmarks

IE9 Test Drive Demo

GPU Acceleration and WebGL Demo

Google Chrome Canary Build

Internet Explorer 10.0 Platform Preview 4

Mozilla Firefox Nightly Builds

Apple Safari 5.1.2

Opera Next 12.00 Build 1155

---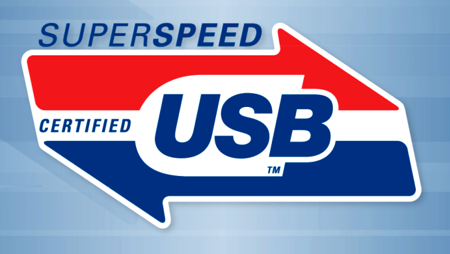 SuperSpeed USB 3.0
Intel Corporation, Microsoft Corporation, NEC Corporation, NXP Semiconductors, HP and Texas Instruments Incorporated have formed the USB 3.0 Promoter Group to create a superspeed personal USB interconnect that can deliver over 10 times the speed of today's connection. The technology will target fast sync-and-go transfer applications in the PC, consumer and mobile segments that are necessary as digital media become ubiquitous and file sizes increase up to and beyond 25 Gigabytes.
USB (Universal Serial Bus) 3.0 will create a backward-compatible standard with the same ease-of-use and plug and play capabilities of previous USB technologies. Targeting over 10x performance increase, the technology will draw from the same architecture of wired USB. In addition, the USB 3.0 specification will be optimized for low power and improved protocol efficiency. USB 3.0 ports and cabling will be designed to enable backward compatibility as well as future-proofing for optical capabilities.

The new standard for USB (Universal Serial Bus) 3.0, also known as SuperSpeed USB, has released the specifications for its next major upgrade. USB 3.0 is meant to surpass its current predecessor USB 2.0, which supports up to 480 Mbps data transfer. The USB 3.0 will support speeds up to 4.8 Gbps, roughly 10 times faster than USB 2.0.
The new standard is expected to be more power-efficient over its predecessor. Your old devices will not be garbage just yet, since USB 3.0 will be fully backwards compatible with your old devices, supporting USB 1.0, 1.1 and 2.0.
The switch over from USB 2.0 to USB 3.0 on your hardware will hopefully take place late in 2009, where media devices will be the first to see the upgrade in things such as, external hard drives, flash drives, digital cameras, and personal media players.
USB Implementers Forum

USB 3.0 Contributors
---
Bluetooth 4 ready, devices expected later this year
Bluetooth Special Interest Group (SIG) unveiled additional information on Tuesday about the forthcoming Bluetooth 4.0 specification due out end of Q2 2010 (summer time).
Bluetooth 4 is nearly ready and with it the focus is on battery life, energy efficiency and more devices. Bluetooth 4 combines three specifications in one: classic Bluetooth wireless; high speed Bluetooth; and the new Bluetooth low energy. SIG believes that sensors like pedometers and glucose meters will run on the low energy spec and could potentially run for weeks without needing to be recharged.
Bluetooth 4 also improves the range of reach for the technology. Classic Bluetooth only offers 10M (30ft) of range but with 4.0 devices will be capable of 60M (200ft). The full Bluetooth 4 spec is expected to be completed before June 30, 2010. Bluetooth 4 devices are expected to hit the market in late 2010/early 2011.
Bluetooth Special Interest Group

The official website for the Bluetooth
---
HD Graphics
The new generation of graphics card that support DirectX® 11 and High Definition (HD) is now available from both Nvidia and AMD (ATI). DirectX® 11 is exclusive built-in for Microsoft® Windows® 7 and 10.1 only available in Service Pack 1&2 (SP1/SP2) of Windows® Vista™. Note that Windows® Vista™ can update to DirectX® 11 but Windows XP Service Pack 3 (SP3) with DirectX® 9.0c will not update to DirectX® 10 or 11.
DirectX® 11, the next generation of graphics technology, arrives with Windows 7. This is great news for players as many of the newest Windows games will take full advantage of this technology to create more immersive and detailed worlds and experiences. Game developers will utilize new features to create rich worlds, realistic characters, and more fluid gameplay.
DirectX 11 features include:
Tessellation – Tessellation is implemented on the GPU to calculate a smoother curved surface resulting in more graphically detailed images, including more lifelike characters in the gaming worlds that you explore.
Multi-Threading – The ability to scale across multi-core CPUs will enable developers to take greater advantage of the power within multi-core CPUs. This results in faster framerates for games, while still supporting the increased visual detailing.
DirectCompute – Developers can utilize the power of discrete graphics cards to accelerate both gaming and non-gaming applications. This improves graphics, while also enabling players to accelerate everyday tasks, like video editing, on their Windows 7 PC.
While Windows 7 is fully compatible with games and hardware that use older versions of DirectX, the new DirectX 11 features are available with a DirectX 11 compatible graphics card and games designed to take advantage of this new technology.



Nvidia® offer the latest graphics engine GeForce® 600M/500/500M/400/400M/300M/200/200M/100M GeForce® 9/9M/8/8M series:
GeForce® GTX 590 (support DirectX® 11)
GeForce® GTX 580
GeForce® GTX 570
GeForce® GTX 560 Ti With 448 Cores Limited Edition
GeForce® GTX 560 Ti
GeForce® GTX 560
GeForce® GTX 550 Ti
GeForce® GT 545
GeForce® GT 530
GeForce® GT 520
GeForce® 510
GeForce® GTX 580M
GeForce® GTX 570M
GeForce® GTX 560M
GeForce® GT 635M/ GT 555M
GeForce® GT 550M
GeForce® GT 630M/ GT 540M
GeForce® GT 525M
GeForce® 610M/ GT 520MX
GeForce® GT 520M
GeForce® GTX 480
GeForce® GTX 485M
GeForce® GTX 480M
GeForce® GTX 470
GeForce® GTX 470M
GeForce® GTX 465
GeForce® GTX 460
GeForce® GTX 460 SE
GeForce® GTX 460M
GeForce® GTS 455
GeForce® GTS 450
GeForce® GT 445M
GeForce® GT 440
GeForce® GT 435M
GeForce® GT 430
GeForce® GT 425M
GeForce® GT 420
GeForce® GT 420M
GeForce® GT 415M
GeForce® 410M
GeForce® GTS 360M
GeForce® GTS 350M
GeForce® GT 335M
GeForce® GT 330M
GeForce® GT 325M
GeForce® 315M
GeForce® 310M
GeForce® 305M
GeForce® GTX 295
GeForce® GTX 285
GeForce® GTX 285M
GeForce® GTX 280
GeForce® GTX 280M
GeForce® GTX 275
GeForce® GTX 260
GeForce® GTS 260M
GeForce® GTS 250
GeForce® GTS 250M
GeForce® GT 240
GeForce® GT 240M
GeForce® GT 230M
GeForce® GT 220
GeForce® 210
GeForce® G210M
GeForce® GTS 160M
GeForce® GTS 150M
GeForce® GT 130M
GeForce® G110M
GeForce® G105M
GeForce® G102M
GeForce® 9800 GX2/GTX+/GTX/GT
GeForce® 9650M GT/GS
GeForce® 9600 GT/GSO 512/GSO
GeForce® 9600M GT/GS
GeForce® 9500 GT
GeForce® 9500M GS/G
GeForce® 9400 GT
GeForce® 9400 mGPU
GeForce® 9300 mGPU
GeForce® 9300M GS/G
GeForce® 9200M GS
GeForce® 9100M G (support DirectX® 10.1)


AMD® (ATI) leading with Radeon™ HD 6000/5000/4000/3000/2000/ Mobility Radeon™ HD 6000 M/5000/4000/3000/2000 series:
Radeon™ HD 6990 (support DirectX® 11)
Radeon™ HD 6970
Radeon™ HD 6950
Radeon™ HD 6930
Radeon™ HD 6870
Radeon™ HD 6850
Radeon™ HD 6790
Radeon™ HD 6770
Radeon™ HD 6750
Radeon™ HD 6670
Radeon™ HD 6570
Radeon™ HD 6450
Radeon™ HD 6900 M
Radeon™ HD 6800 M
Radeon™ HD 6700 M
Radeon™ HD 7600 M/ 6600 M
Radeon™ HD 7500 M/ 6500 M
Radeon™ HD 7400 M/ 6400 M
Radeon™ HD 6300 M
Radeon™ HD 5970
Radeon™ HD 5870
Radeon™ HD 5850
Radeon™ HD 5830
Mobility Radeon™ HD 5870
Mobility Radeon™ HD 5850
Mobility Radeon™ HD 5830
Radeon™ HD 5770
Radeon™ HD 5750
Mobility Radeon™ HD 5770
Mobility Radeon™ HD 5750
Mobility Radeon™ HD 5730
Radeon™ HD 5670
Mobility Radeon™ HD 5650
Radeon™ HD 5570
Radeon™ HD 5550 /6390
Radeon™ HD 5450
Mobility Radeon™ HD 5470
Mobility Radeon™ HD 5450
Mobility Radeon™ HD 5430 (support DirectX® 11)
Mobility Radeon™ HD 5165 (support DirectX® 10.1)
Mobility Radeon™ HD 5145 (support DirectX® 10.1)
Radeon™ HD 4870 X2 (support DirectX® 10.1)
Radeon™ HD 4890
Radeon™ HD 4870
Mobility Radeon™ HD 4870
Mobility Radeon™ HD 4860
Radeon™ HD 4850
Mobility Radeon™ HD 4850
Radeon™ HD 4830
Mobility Radeon™ HD 4830
Radeon™ HD 4770
Radeon™ HD 4600
Mobility Radeon™ HD 4600 /565v/ 560v/ 550v
Radeon™ HD 4550
Mobility Radeon™ HD 4500 /540v
Radeon™ HD 4350
Radeon™ HD 4300
Mobility Radeon™ HD 4300 /530v
Radeon™ HD 4200
Radeon™ HD 3800
Radeon™ HD 3600
Radeon™ HD 3400
Mobility Radeon™ HD 3800
Mobility Radeon™ HD 3600
Mobility Radeon™ HD 3400 (support DirectX® 10.1)
These cards enhance the stunning Windows Aero™ user interface with a powerful performance upgrade from integrated graphics. All of the cards come with at least 128MB of dedicated DDR2 RAM require by Windows Vista.


Intel® as a leader in integrated graphics release a number of integrated graphics while AMD also release some:
Desktop Intel® Core™ i7-3 processor (integrated Intel HD Graphics 4000)
Desktop Intel® Core™ i5-3 processor (integrated Intel HD Graphics 2500)
Mobile Intel® Core™ i7-3 processor (integrated Intel HD Graphics 4000)
Mobile Intel® Core™ i5-3 processor (integrated Intel HD Graphics 4000)
Desktop Intel® Core™ i5-2 processor (integrated Intel HD Graphics 3000)
Desktop Intel® Core™ i3-2 processor (integrated Intel HD Graphics 2000)
Desktop Intel® Core™ i5 processor (integrated Intel HD Graphics)
Desktop Intel® Core™ i3 processor (integrated Intel HD Graphics)
Desktop Intel® Intel® Pentium® G6960 processor (integrated Intel HD Graphics 2000)
Desktop Intel® Intel® Pentium® G6950 processor (integrated Intel HD Graphics)
Mobile Intel® Core™ i7-2 processor (integrated Intel HD Graphics 3000)
Mobile Intel® Core™ i5-2 processor (integrated Intel HD Graphics 3000)
Mobile Intel® Core™ i3-2 processor (integrated Intel HD Graphics 2000)
Mobile Intel® Core™ i7 processor (integrated Intel HD Graphics)
Mobile Intel® Core™ i5 processor (integrated Intel HD Graphics)
Mobile Intel® Core™ i3 processor (integrated Intel HD Graphics)
Desktop Intel® G45 Express Chipset (GMA X4500HD)
Desktop Intel® G43 Express Chipset (GMA X4500)
Desktop Intel® G41 Express Chipset (GMA X4500)
Desktop Intel® Q45 Express Chipset (GMA 4500)
Desktop Intel® Q43 Express Chipset (GMA 4500)
Mobile Intel® GM47 Express Chipset (GMA 4700MHD)
Mobile Intel® GM45/GE45 Express Chipset (GMA 4500MHD)
Mobile Intel® GS45 Express Chipset (GMA 4500MHD)
Mobile Intel® GM40 Express Chipset (GMA 4500M)
Mobile Intel® GL40 Express Chipset (GMA 4500M)
Desktop Intel® G35 Express Chipset (GMA X3500)
Mobile Intel® GM965 Express Chipset (GMA X3100)
Mobile Intel® GL960 Express Chipset (GMA X3100)
Mobile Intel® Atom™ Processor N2800(GMA 3650)
Mobile Intel® Atom™ Processor N2600(GMA 3600)
Desktop Intel® Atom™ Processors (GMA 3150)
Mobile Intel® Atom™ Processors (GMA 3150)
Mobile AMD® A8-3550MX /A8-3530MX /A8-3520M /A8-3510MX /A8-3500M APU (AMD Radeon™ HD 6620G)
Mobile AMD® A6-3430MX /A6-3420M /A6-3410MX /A6-3400 APU (AMD Radeon™ HD 6520G)
Mobile AMD® A4-3330MX /A4-3310MX /A4-3305M /A4-3300M APU (AMD Radeon™ HD 6480G)
Mobile AMD® E450/ E-350 /E-300 /E-240 APU (AMD Radeon™ HD 6310)
Mobile AMD® C-60/ C-50 /C-30 APU (AMD Radeon™ HD 6250)
Desktop AMD® A8-3850 /A8-3820 /A8-3800 APU (AMD Radeon™ HD 6550D)
Desktop AMD® A6-3650 /A6-3620 /A6-3600 /A6-3500 /A4-3420 APU (AMD Radeon™ HD 6530D)
Desktop AMD® A4-3300 /A4-3400 APU (AMD Radeon™ HD 6410D)
Desktop AMD® 890GX Chipset (ATI Radeon™ HD 4290)
Desktop AMD® 880G Chipset (ATI Radeon™ HD 4250)
Desktop AMD® 790GX Chipset (ATI Radeon™ HD 3300)
Desktop AMD® 785G Chipset (ATI Radeon™ HD 4200)
Desktop AMD® 780G Chipset (ATI Radeon™ HD 3200)
Desktop AMD® M780G Chipset (ATI Radeon™ HD 3200)
Desktop AMD® 780V Chipset (ATI Radeon™ 3100)
Desktop AMD® 780G Chipset (ATI Radeon™ HD 3200)
Desktop AMD® 760G Chipset (ATI Radeon™ 3000)
Desktop AMD® 740G Chipset (ATI Radeon™ 2100)
Intel® Fast Memory Access & Intel® Dynamic Video Memory Technology 4.0(DVMT) allows for up to 1.7GB shared memory being allocated to the graphics engine. This provides more memory for intensive applications for maximum system performance.
My Tips:
If you are planning to buy a new graphics accelerator for long terms (3-5 years), go for AMD® (ATI) Radeon™ HD 6000-series lineup which support new PCI Express® 2.1, DirectX® 11, Shader Model 5.0, OpenGL 4.2, OpenCL 1.1 & DirectCompute 11 in Microsoft Windows 7. With at least 512MB of GDDR3 ram, real 3D gaming experience and playing HD contents is in your control.
DirectX Redistributable 9.29.1962 (June 2010)

High End Video Card Benchmarks

nVIDIA Geforce Family

AMD/ATI Redeon HD Series

Intel HD Graphics Visual Technology

AMD Accelerated Processing Units (APU)
---
Microsoft CEO Steve Ballmer finally confirmed what tech pundits knew all along: the next generation of Windows will be out in 2012. In the meantime, Microsoft is half-way done with Windows 8 -- it's in the Milestone 3 stage right now -- and is prepping up the first beta for this September's "Windows Developer Conference" in Anaheim, California.
But you don't have to wait until then to get a look at some of Windows 8's best new features.
Applications:
Modern Reader:
Webcam:
Protogon FS: (WinFS)
Task manger:
Metro Login:
Tablet Start UI:
HTML5 Start Screen: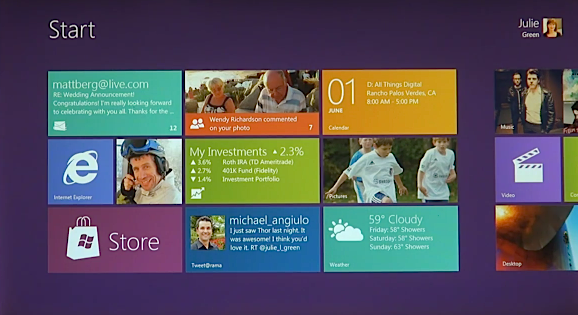 The live tile interface of Windows Phone has been ported over to Windows, and the "Start Screen" pictured above is the default screen a user will see when his Windows 8 device is active. Like Windows Phone, the live tiles serve as notifications as well as app-launching shortcuts.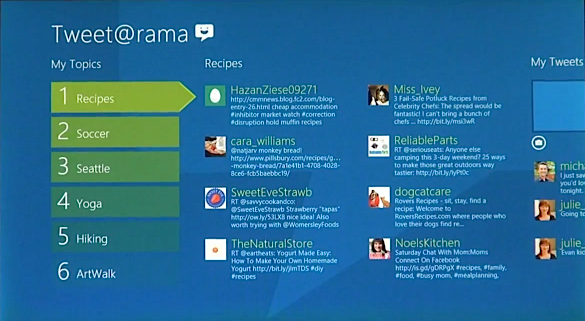 Browsing through shared files:
Windows 8 will support Windows 7 software and the traditional PC filesystem. Therefore, a networked PC or server will be fully accessible by a Windows 8 portable device.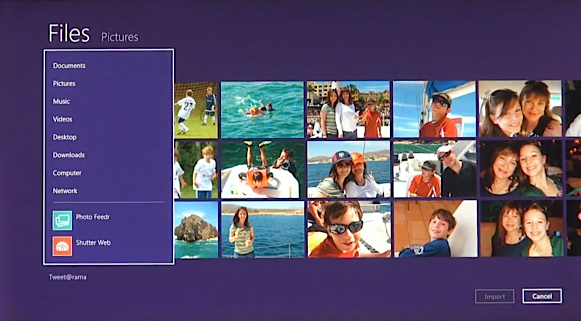 Locked Screen: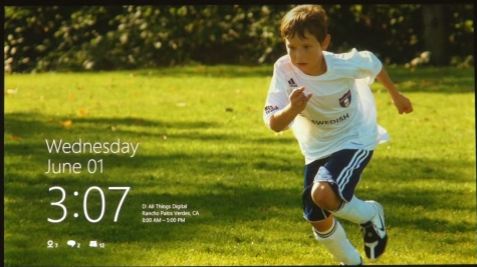 Apps "snapped" to either side of the screen
Since it's Windows, it naturally supports multitasking. But to accommodate tablet-sized screens, it has a new feature called "snapping." Normally, You can page through your live apps by swiping from left to right, but if you swipe and drag the app, you can have it share the screen with the current app on screen.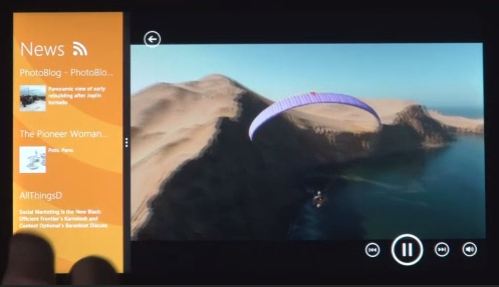 "Touch First" Internet Explorer 10
Internet Explorer 10 has been designed with touch as the primary interface. Like its most recent predecessors, IE10 is geared toward HTML5 apps, and supports hardware acceleration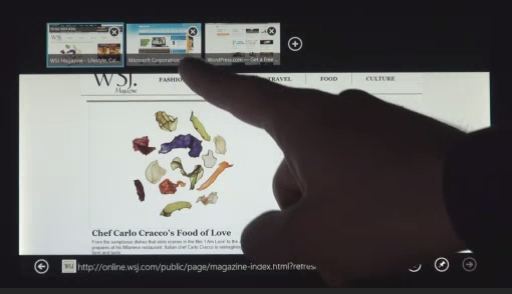 "Thumbs" keyboard:
For bigger handheld touchscreens, Microsoft has redesigned the keyboard into a more ergonomic thumb-typing interface.

News/RSS reader: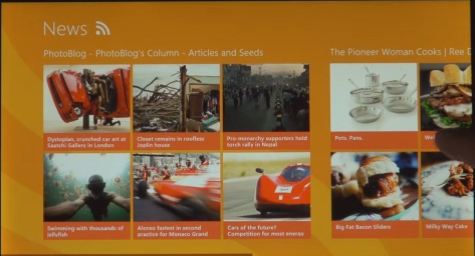 Video tour of Windows 8 Consumer Preview:


Windows 8 Consumer Preview: Product Demo:


Video of Building "Windows 8"
"This isn't just about touch PCs," Julie Larson-Green, corporate vice president, Windows Experience said. "The new Windows experience will ultimately be powered by application and device developers around the world -- one experience across a tremendous variety of PCs. The user interface and new apps will work with or without a keyboard and mouse on a broad range of screen sizes and pixel densities, from small slates to laptops, desktops, all-in-ones, and even classroom-sized displays. Hundreds of millions of PCs will run the new Windows 8 user interface. This breadth of hardware choice is unique to Windows and central to how we see Windows evolving."


Windows 8 Screenshots

Windows 8 Features

Build Windows

Windows Team Blog

Downloads @ My Ei8ht
---
Microsoft Touch Pack for Windows 7
Microsoft announced the Windows 7 Touch Pack back in May 2009 but originally it was meant for OEMs only. Today the company released the Touch Pack download for the masses. Microsoft's Brandon LeBlanc confirmed the release in a
company blog posting
. LeBlanc said that Microsoft took the decision to distribute the pack more widely due to "feedback and requests from both partners and customers."
Download:
Microsoft Touch Pack for Windows 7
Obviously, in order to use these applications, you will need a Windows 7 PC that supports touch. The Touch Pack brings a range of touch-friendly applications, of which we will detail below:
Microsoft Surface Globe:
The first of these applications is called Microsoft Surface Globe. This, as you can imagine, is a multi-touch capable globe (think Google Earth) that uses the Virtual Earth 3D engine to display a rotatable 3D version of the world. You can visit various locations and regions, get information about some areas, and bookmark your favorites. To add to this, some cities are even constructed in 3D, providing a very realistic and detailed experience. There's a screenshot of this below.
Microsoft Surface Collage:
Next up, we have the Microsoft Surface Collage. This tool allows you to choose a gallery of photos, and then move them around and scale them however you please. If you've watched a video of Microsoft Surface before, you'll have an idea of how this works. Once you've got an arrangement that you like, you can choose to save it as an image then use it as a desktop wallpaper. Again, a screenshot is included.
Microsoft Surface Lagoon:
Microsoft Surface Lagoon is a very interesting looking application. It is, essentially, a screensaver for your computer that you can interact with using your hands via multi-touch technology. It depicts an underwater scene with sand, water (of course), and fish. By interacting with it, you can have fish gather around you and also run your fingers through the virtual water.
Microsoft Blackboard:
Microsoft Blackboard is another rather intriguing piece of software. It is a puzzle game, that uses simulated physics combined with multi-touch to get the user to solve it. You use gestures to create seesaws, fans and gears that can all be resized and moved around. Everything is pieced together on a virtual blackboard (hence the name), and the goal is to get balloons and balls to a lightbulb.
Microsoft Rebound:
Microsoft Rebound is a game that is played against friends or AI, which appears to be somewhat similar to Air Hockey. The aim is to "use your fingers to propel a ball and annihilate your opponent" whilst playing in an electrified court.
Microsoft Garden Pond:
Microsoft Garden Pond is another game, though this one has a more relaxing tone to it. The idea is to guide some origami creations to peaceful areas of a pond, or direct them around using your hands to complete set goals. To move the origami, you interact with the water, making ripples.
The Windows Blog

Introducing the Microsoft Touch Pack for Windows 7

Microsoft Touch Pack for Windows 7

---
*All sources/products linked on this site are/may be trademarks and/or registered trademarks of their respective companies in the United States and/or other countries and/or protected by US and/or International laws. Some sources/products are alpha, beta, demo, trail, preview release, release candidate that not supported by their respective companies and this site, use on your own risk!